Turn No-Shows Into Present and Always On Time
CareCommunity is an appointment reminder software that helps providers increase revenue, enable contactless check-in and reduce the headache of managing patient missed appointments with automated patient appointment reminder text messages.
Jodi Shephardson
Director of Support Services, Adelante Healthcare
"In addition to reduced no show rates, our front office operations have benefited from the appointment reminder solution because we no longer have to spend time manually calling patients to remind them of upcoming visits. The solution has also greatly reduced call backs at our call centers, which frees up our phone lines for more urgent patient calls."
Automate SMS text and voice
Automate SMS text and voice
Easily make changes and track messaging
Easily make changes and track messaging
Safeguard critical information while making automated appointment reminders easier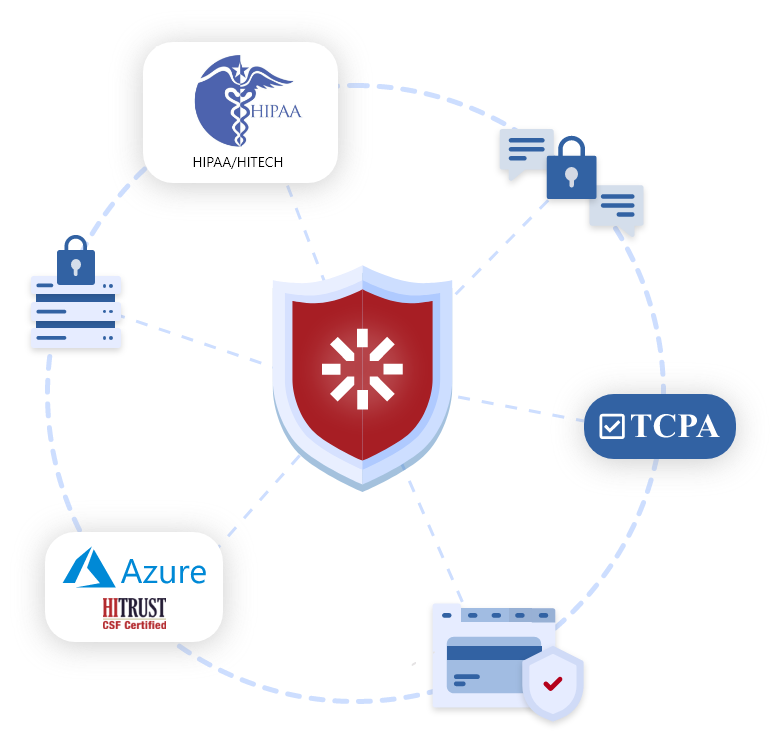 Built for HIPAA compliance by healthcare tech experts via Azure's HITRUST Certified Cloud.
Encrypt every piece of data and Personal Health Information (PHI)
Data sent to and from Providertech's Azure cloud infrastructure is encrypted with TLS/SSL with authentication devices for client and server-side
Leverage the most secure, HITRUST Certified Cloud Infrastructure
Our environments and your data run on Azure's HITRUST certified infrastructure leveraging Azure blueprints and security technologies such as two-factor authentication, IAM access control management, encryption at rest and in transit and more…
Strategically built with TCPA safeguards
Safely communicate with patients in compliance with federal regulations using right party validation, reassigned HIPAA compliant phone numbers API, and more.
Robust EMR integration
Streamline and simplify your existing communication
Choose how and when appointment reminder text messages will be delivered—and to whom using our SMS reminders.
Providertech's CareCommunity medical appointment reminder software engine automatically pulls records from your EMR based on your appointment types, providers, and clinics.
Patients receive a text, voice, or email reminder and respond with a confirmation or cancellation for upcoming appointments with our best appointment reminder software.
Responses, confirmations, and cancellations are displayed in your self service portal and pushed directly into your practice management system using our appointment reminder service for doctors.

Learn more about CareCommunity
Schedule time with our patient care experts to better understand how your organization can benefit from Providertech's CareCommunity Suite, including appointment management.