The United States healthcare industry employs approximately 22 million individuals and accounts for roughly 15 percent of all of the nation's workers. That figure includes more than one million professionally-active physicians, almost 4.2 million registered nurses (RNs), 950,000  licensed practical nurses (LPNs) and 325,000 nurse practitioners (NPs). 
These highly-trained and educated medical professionals are the backbone of the country's healthcare system. They spend countless hours providing patient care and ensuring various clinical processes and procedures run smoothly, even while being responsible for an array of often time-consuming administrative tasks. 
An increasing number of clinicians face complex and stressful challenges. Physicians are responsible for multiple administrative tasks which limit the amount of time they're able to spend with patients. Nurses often face extended shifts with inadvisably high nurse-to-patient ratios. 
Throughout the COVID-19 pandemic, many of these clinicians have consistently faced an influx of critically-ill patients, including a high COVID-19 patient volume, all while being required to wear personal protective equipment (PPE). They've also had to deal with the fear of being exposed to the COVID-19 virus and unintentionally passing it on to friends and family.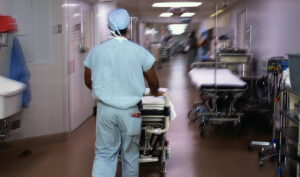 A Fight For Healthcare Workers  
Even before COVID-19, this vast workforce was declining in numbers for a variety of reasons, the most prominent of which is burnout. Since the start of the pandemic, 60-75 percent of clinicians have reported symptoms of exhaustion, depression, sleep disorders and post-traumatic stress disorder (PTSD). The result of the strain of being a frontline healthcare worker during the COVID-19 pandemic coupled with increasing rates of burnout have only exacerbated the issue of a healthcare workforce shortage. 
The following statistics indicate just how much of a problem the workforce shortage is for the healthcare industry overall:
The projected healthcare workforce shortage can be broken down even further by type of clinician: 
Primary Care Physicians and Other Doctors
Nurses 
Some states are experiencing worse shortages of healthcare workers than others. North Dakota, Rhode Island, South Carolina and West Virginia are dealing with critical staff shortages in at least one-third of their hospitals. Seven states – Arizona, Wyoming, Kentucky, Wisconsin, California, Alabama and Oklahoma – have critical staffing shortages in more than 25 percent of their hospitals. Most rural states, such as Utah, Vermont, Tennessee, as well as remote territories like Guam and the Northern Mariana Islands, have the highest shortages in medical professionals per capita. 
The healthcare workforce shortage hits rural communities especially hard because they generally have fewer physicians, nurses, specialists and other healthcare workforce. Plus, there are numerous factors that make it difficult for rural communities to maintain local hospital facilities and attract and retain health personnel. Currently, near-retirement primary care physicians (age 56 or older) constitute a larger proportion of the rural workforce.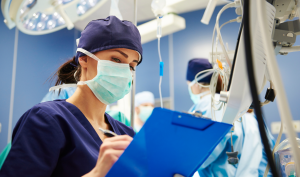 How the Staffing Shortage Affects Healthcare Providers – and Patients
The negative consequences of the healthcare workforce shortage go beyond numbers. In addition to widespread burnout, which is directly linked to lower patient satisfaction, higher malpractice risk and physician and staff turnover and physician suicide, 76 percent of surgeons say staffing shortages caused by the pandemic have made an impact on surgical practices' ability to provide top-quality care. 
The consequences of the healthcare workforce shortage might be more evident in nursing. An American Association of Critical-Care Nurses (AACN) survey found that 92 percent of nurses believe the pandemic has depleted nurses at their hospitals and 66 percent feel their experiences during the pandemic have caused them to consider leaving nursing. 
Many scientific studies point to the connection between adequate levels of registered nurse staffing and safe patient care. Increases in the nurse-to-patient ratios have been associated with higher hospital readmission rates, and nursing shortages lead to errors, higher morbidity and mortality rates. In summary, a heavy nursing workload adversely affects patient safety and may result in lapses of continuity in treatment, a higher risk of over- or under-medicating patients and compromised data security.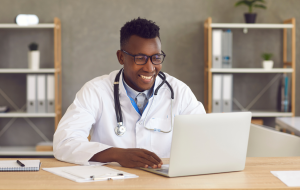 Digital Technology: A Valuable Resource for Healthcare
Although not the panacea for the healthcare workforce shortage, digital technology has the potential to improve patient care and increase clinician, staff and patient satisfaction. By automating numerous administrative tasks, it enables physicians and nurses to spend more time on direct patient care. Attributes that apply to effective, efficient and usable healthcare technology include:
Easy retrieval of accurate, timely and reliable native and imported data

Simple and intuitive data presentation

Easy navigation

Availability of evidence at the point of care to aid decision-making

Capability to enhance workflows, automate mundane tasks and streamline work without increasing physical or cognitive workload

Easy transfer of information to and from other organizations and clinicians

Reduction of repetitive documentation 

No unanticipated downtime

 
Providertech's scalable outreach platforms for healthcare providers, payers and Federally Qualified Health Centers (FQHCs) allow healthcare professionals to streamline workflows and tasks while modernizing care for a contactless patient experience and improved patient outcomes. We use automated workflows to send text, voice and email messages, leading to improved outcomes and enhanced patient engagement. Contact us to learn more!